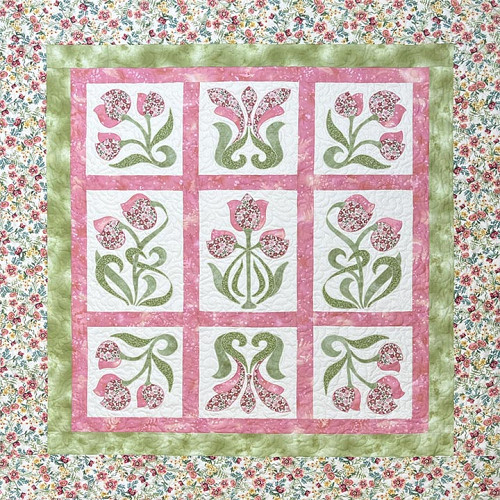 Art Nouveau Garden Quilt Kit
The pretty floral patterned fabrics used in the simple elegant applique designs and framed wtih bold sashing strips and first border gives the applique blocks the ability to stand out individually while maintaining it's overall harmony, all wrapped up in a wide floral patterned border.
The kit includes the 100% cotton quilting grade fabrics for the top and binding of the Quilt (backing and wadding NOT included - choose ones specific to your needs) and the 'Art Nouveau Applique Pattern'.
The Art Nouveau Applique Pattern has patterns and instructions to make this quilt and can be reused to make as many more as you like with additional fabrics as well as the other 4 projects in the pattern.
The pattern included has:
Step by step Instructions for the 7 fusible appliqué blocks including hints and tips for machine satin stitching the edges.
Instructions for the construction of the 5 projects including diagrams where necessary.
Full sized and ready to use applique patterns (broken down & placement) – no need to resize or reverse.
Lists of requirements and full colour project and block photos.
Finished Quilt Size: 62" x 66".
Please select a wish list